Contacts

From the press
A weird, revealing delight ... an irresistible picture of friendship, loyalty and artistic temperament ... I enjoyed every word. – The New York Times
As good an insider's view of middle- to late-period Kubrick as there is. – Kirkus Reviews
Utterly charming ... [A] sweet and sentimental record of service to a creative genius... – Publishers Weekly
Through detailed anecdotes and tender accounts of life both on location and off, D'Alessandro sheds light behind the scenes of Kubrick's famously controlled sets and offers a unique portrait of the man himself. – Vice
Exquisite! Not to be missed! – Il Sole 24h
Possibly the most important book ever written about Kubrick. – L'Unità
Where to find the book
Stanley Kubrick and me
is available now. Order on
Amazon
,
Barnes and Noble
, or buy a copy at your
independent bookstore
.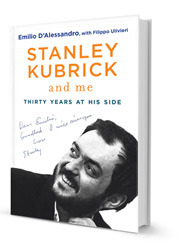 Stanley Kubrick and Me
Hardcover edition: 6"x 9", 384 pages, 56 b/w photographs, 40 color photographs.
Digital editions available for any device.
Arcade Publishing
A former Formula Ford driver who was a minicab chauffeur in London during the Swinging Sixties, Emilio took a job driving a giant phallus through the city that became his introduction to the director. Honest, reliable, and ready to take on any task, Emilio found his way into Kubrick's neurotic, obsessive heart.